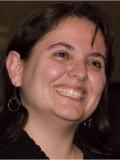 Aslihan D. Spaulding
Associate Professor of Agribusiness
Illinois State University
AAEA Activities:
Aslihan Spaulding has worked on variety of research projects, but one common theme is the use of survey research methodology to collect primary data. Here is list of selected titles of her research projects:
Attitudes Concerning Wind Energy in Central Illinois
Ethanol Marketing and Input Procurement Practices of U.S. Ethanol Producers: 2008 Survey Results
Factors Affecting Crop Insurance Purchase Decisions by Northern Illinois Farmers
Guidance Counselor Perceptions and Knowledge of Higher Education and Career Opportunities in CTE Fields
Consumer Responses to the H5N1 Avian Influenza: The Case of Turkey
College-Age Consumers' Knowledge and Perceptions of Food Irradiation
Grain Marketing Tools: A Survey of Illinois Grain Elevators
An Analysis of the Relationship between Supply-Chain Management Practices and New Product Development Time: A Case of the North American Confectionery Manufacturers
She enjoys working in interdisciplinary teams while involving both undergraduate and graduate students in the projects. She likes to complement her teaching with the research. Her research projects have been funded by U.S. Small Business Administration, U.S. Department of Education, International Labour Organization, Illinois Council on Food and Agricultural Research (C-FAR), and Illinois State University - University Research Grant (URG). Currently she is working on ISU Export Project, where teams of students assist Illinois based companies with their export needs. She is overseeing three teams this year in China, Russia, and Ukraine. She is always looking for new research ideas and partners. Feel free to contact her at
adspaul@ilstu.edu
to discuss research as well as teaching ideas.
---
This post is part of an ongoing series of profiles of AAEA members. Have a suggestion for a future profile? Send them to Info@aaea.org.