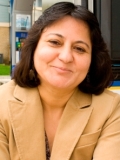 Madhu Khanna
Professor
Department of Agricultural and Consumer Economics University of Illinois at Urbana-Champaign
AAEA Activities:
Madhu Khanna has worked on diverse topics ranging from technology adoption and agro-environmental policy analysis, voluntary approaches to environmental protection, and the land use, market, and greenhouse gas implications of biofuels. Her work on technology adoption seeks to provide a rationale for the often-observed low rates of adoption of efficiency-enhancing technologies and shows the importance of considering heterogeneous producer characteristics, risks, uncertainty, and market failures that distort prices while analyzing the incentives to adopt these technologies. She also examines the design of conservation payments to induce the adoption of improved land management practices to reduce non-point pollution from agriculture and enhance soil carbon sequestration.
Her research also examines the effectiveness of environmental information disclosure policies and voluntary pollution control programs in achieving environmental protection. She has studied the motivations for corporations to undertake voluntary environmental initiatives to reduce toxic emissions to the environment. She analyzes the design of such voluntary programs, the incentives for firms to participate and the effectiveness of voluntary efforts in improving corporate environmental performance.
More recently, she has been analyzing the economic and land use implications of large scale production of biofuels from the next-generation of bioenergy crops, such as perennial grasses and crop residues, and the intended and unintended impacts of biofuels on greenhouse gas emissions. Her research often includes inter-disciplinary components and aims to be policy relevant.
Madhu Khanna has authored more than 90 papers, chapters, and reports and most recently edited the
Handbook of Bioenergy Economics and Policy
. She is Chair of the Environmental Economics Advisory Committee of the Science Advisory Board of the US Environmental Protection Agency. Her research has been funded by the National Science Foundation, the US Environmental Protection Agency, the USDA, the US Department of Energy, the Energy Biosciences Institute (UC Berkeley) and the Illinois Council on Food and Agricultural Research.
---
This post is part of an ongoing series of profiles of AAEA members. Have a suggestion for a future profile? Send them to Info@aaea.org.