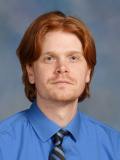 Matthew Interis
Associate Professor
Mississippi State University
What motivated you to pursue Agricultural/Applied Economics as a profession?
As an undergrad, I double majored in economics and music. My first plan was to go to graduate school for music composition, but then I started finding the idea of addressing real world problems through economics more appealing. Immediately after undergrad I joined AmeriCorps where I built environmentally-friendly low-income housing. That was where I first became interested in environmental issues. When investigating graduate degrees in economics, I came across the field of environmental economics, so becoming an environmental economist felt like the natural thing to do.
Why did you join AAEA, and how has membership in the Association impacted your professional development?
In graduate school, all the faculty members with whom I interacted closely were AAEA members, and my departmental colleagues at Mississippi State, where I started working in 2009, were members as well. As a graduate student, I interviewed at the AAEA meetings, and as a professional, the meetings are an important way to present and get feedback on my own work as well as be exposed to the work of others.
I think most professionals who have been attending the AAEA meetings for several years will agree that the biggest benefit of the meetings is networking. In this age of easy electronic communication, it's probably less necessary to meet face to face than it once was, but there is still plenty to be said for meeting in person. First, it's efficient because hundreds of your colleagues are in the same place so the cost of any social interaction is virtually nothing (think of having, say, 50 email exchanges with the same people on the same topics as 50 conversations you have at the meetings). Second, it's an efficient way to learn about new ideas and other research going on in the field. You can always search for research on a particular topic on your office computer, but it's much more likely at the conference to learn about research and ideas that you wouldn't have otherwise considered, had you not happened to have seen them on the conference program or heard about them from another conference attendee.
In 2014, I was elected to a three-year term (Chair-elect, Chair, Past Chair) as a leader in the Land, Water, and Environmental Economics (ENV) section of AAEA. This position has given me a greater understanding of how the AAEA operates and what its goals are and of the objectives and needs of AAEA members. The ENV section is young (I was elected in its second year of existence), so it is interesting to be part of creating this new sub-organization and trying to figure out how it can best serve its members and the profession.
What advice would you give to an up and coming Agricultural/Applied Economist?
Work hard. It's important to be confident, so work hard enough so that you can be proud of the work you are doing. Then confidence will come naturally. Enjoy your work. For anything you work on, find some aspect of it that you enjoy – there has to be something. If it's a project you got involved in rather reluctantly, maybe you're working with great people, maybe the project involves puzzles of implementation that you enjoy thinking about (I haven't yet met an economist who doesn't enjoy solving puzzles), maybe the work will result in a practical solution that will be useful to someone, maybe the example that you set in how you conduct your work (e.g. as a teacher) will benefit someone.
Don't work too hard. We all have families, hobbies, and interests outside of our work, so don't neglect those. But if you're confident about your work and you enjoy your work, then work starts to feel less like a separate thing you do (called "work") and more like a natural part of your complete life.
More practically, I would advise you to read, read, read (and network), so that you can learn about the latest research and who's doing it. You have to learn what the currently important issues are and how people are addressing them. Then research ideas will start popping into your head naturally. Also, make sure to step back and think big picture often enough: what do you want for your career trajectory? what do you want to be known for in the field? how should you prioritize your current workload? Etc.
---
This post is part of an ongoing series of profiles of AAEA members. Have a suggestion for a future profile? Send them to Info@aaea.org.