AAEA Trust Profile is a bi-monthly series following up with AAEA Trust sponsored scholarship, fellowship, and grant winners. This issue features Carola Grebitus, Assistant Professor of Food Industry Management, Morrison School of Agribusiness, W.P. Carey School of Business. Carola won the Sylvia Lane Mentor Fellowship in 2011. The Lane Mentor Fellowship provides an opportunity for young female scholars working on food, agricultural, or resource issues to collaborate with an established expert at another university, institution, or firm.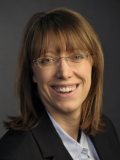 How did winning the Lane Mentor Fellowship help in accomplishing your research in measuring consumers' willingness to pay for local foods and food miles?
The Lane Mentor Fellowship enabled me to work together with Jayson Lusk and to visit Oklahoma State University where we worked intensively on two manuscripts we published from that project. I learned a lot from Jayson in terms of experimental economics and how to run experiments successfully. In our field, experience is important and Jayson always offers advice.
When you were at University of Bonn your research involved consumer behavior - with a focus on new technologies, food safety, health, and sustainability. Is that still your main research focus?
I still do a lot of work in these areas; although currently, my main focus lies on more theoretical questions regarding decision making. However, I always try to make an applied research contribution, too. Usually this contribution is either related to the economics of food choice and health or to sustainable decision making from a consumer's perspective.
Your mentor when you received the funding was Jayson Lusk from Oklahoma State University; do you still work or collaborate with him?
I believe that Jayson's mentoring was key for me in getting my current position at Arizona State University. Jayson and I still collaborate but currently more with regards to organizing conferences and workshops such as the 2nd AAEA/EAAE Symposium on 'Food Environment: The Effects of Context on Food' in 2012 in Boston, MA and the 2014 EAAE pre-congress workshop on 'Recent Trends in Experimental Economics'.
How did you meet your mentor for this mentorship?
I was already collaborating with Rudy Nayga, who then introduced me to Jayson Lusk at an AAEA meeting.
What led you to pursue agricultural economics and modeling consumers' food choice?
Given that I graduated with a B.S. in Food Science and a M.S. in Food Economics, I was already interested in diet and health. With current issues such as high rates of obesity and sustainable consumption becoming more important, I believe that we have to develop a thorough understanding of consumer food choices as well as the underlying factors.