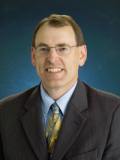 Scott H. Irwin
Professor
University of Illinois at Urbana-Champaign
AAEA Activities:
Professor Scott H. Irwin has the rare distinction of making landmark contributions in both research and extension. His research on commodity price behavior over the last three decades has made a significant and lasting influence on scholarship and public policy. He has conducted ground-breaking research on the impact of public information in agricultural markets, the performance of agricultural market advisory services, and the role of speculation in the commodity markets. Reflecting the close integration of his research and extension activities, Professor Irwin has also been a pioneer in development of innovative extension programs. As team leader of the
farmdoc
project since its inception, Professor Irwin's vision and leadership have been a driving force behind the remarkable success and impact of the project. He has not only led these pioneering extension programs but is also recognized as one of the leading market analysts in the field of agricultural economics. In sum, his career accomplishments exemplify the dual land-grant mission of providing scientific research that has important practical application. Professor Irwin currently holds the Laurence J. Norton Chair of Agricultural Marketing in the Department of Agricultural and Consumer Economics at the University of Illinois at Urbana-Champaign.
---
This post is part of an ongoing series of profiles of AAEA members. Have a suggestion for a future profile? Send them to Info@aaea.org. or use the Submit a Member Profile form.