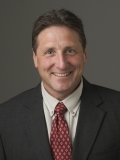 Ken Foster
Professor and Head of Department
Purdue University
AAEA Activities:
Ken Foster's research interests are in the fields of production economics and marketing with special emphasis on dynamic models in the livestock and meat sectors. His work has included a dynamic analysis of investment and supply in the U.S. beef cattle industry, measuring technical change in agriculture, the management of livestock waste, demand for heterogeneous products, and the use of contracts in agricultural production. Foster's research and outreach activities have included testimony to Senate committees and state legislative study committees on the competitiveness of livestock markets and the use of contract production. Likewise, his work has impacted the decisions of private stakeholders in the livestock and meat industry. Most notable, perhaps, is his coauthored book
Positioning Your Pork Operation for the 21st Century
which provided guidance to the international pork industry during a time of dramatic technological and managerial revolution. His current research is investigating the role of farm policy on structural change in U.S. Agriculture and spatial dimension of competition for live animals in the U.S. pork and beef sectors.
Foster teaches applied econometrics, has experience working in Latin America, China, and Africa, and serves as an extension specialist in the area of livestock production economics. Foster served as Associate Head and Graduate Program Director at Purdue from 2004 to 2008 and was named Interim Department Head in 2008. In 2009, he was appointed as head of the department. Foster serves on the College of Agriculture Academic Leadership Council and as an ex-Officio member of the Board of Directors for the Agribusiness Council of Indiana. Among his many awards, Foster has been recognized: by AAEA for Distinguished Graduate Teaching with 10 or More Years' Experience; twice as a member of teams that received AAEA's Group Extension Award; by the Purdue College of Agriculture as Outstanding Graduate Faculty Mentor; and has received the Purdue Agriculture Team Award on three different occasions.
---
This post is part of an ongoing series of profiles of AAEA members. Have a suggestion for a future profile? Send them to Info@aaea.org.