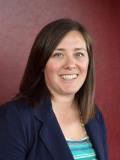 Joleen Hadrich
Associate Professor
Colorado State University
What motivated you to pursue Agricultural/Applied Economics as a profession?
While I was an undergraduate student at UMN-Morris, my undergraduate thesis advisor (Margaretha Rudstrom) encouraged me to apply to graduate school to study agricultural economics. She saw my passion for agriculture and my desire to do applied economic research. Margot helped me identify schools that focused on dairy economics and before I knew it I had moved to East Lansing and started my graduate studies at Michigan State University. Within months of starting my program I knew I had made the right choice. Since then, each day I get to work—whether I am teaching or working on research—I am able to apply my agricultural background and answer relevant economic questions for the livestock industry.
Why did you join AAEA, and how has membership in the Association impacted your professional development?
I joined AAEA as an undergraduate since my thesis project was accepted as a poster. As a graduate student, I valued the AAEA meetings knowing this was my opportunity to network with agricultural economists within and outside my topic area and learn new skills and methodologies. As a faculty member I continue to be actively engaged in section groups and am currently chairing the Agricultural Finance and Management section. Participating in these sections provides great leadership opportunities, and in my experience has led to new collaborations.
What advice would you give to an up and coming Agricultural/Applied Economist?
My main advice would be to work hard, embrace interdisciplinary research, and be a "closer." Some of my colleagues joke that they wish they had my skill of finishing what I start. I appreciate that comment. My philosophy regarding research is the following--A journal article isn't going to get published unless you submit it, and it might get rejected—if it does, incorporate the comments and resubmit it within a week. I use a similar philosophy with my teaching by incorporating student feedback when appropriate and seeking input about teaching methods from my colleagues.
---
This post is part of an ongoing series of profiles of AAEA members. Have a suggestion for a future profile? Send them to Info@aaea.org.