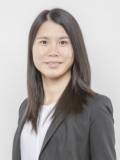 Xiaoli L. Etienne
Assistant Professor
West Virginia University
What motivated you to pursue Agricultural/Applied Economics as a profession?
My father works for the agricultural division of my hometown's local government office in China. As part of his job, he visited rural farms to conduct field surveys, and would occasionally let me tag along when I was in high school. These trips with my dad taught me that these poor farmers are often taking life-or-death financial risks on an annual basis. Coming to grips with this fact led me to study agricultural economics as a career.
In college, I learned that applied economics is a critically important tool to not only understand poverty and risk, but also explain social phenomena and human behavior, solve real world problems, and inform policymakers. I realized that this profession gives me a real opportunity to do good, benefiting not only the poor farmers in China, but everyone involved in the economy.
Why did you join AAEA, and how has membership in the Association impacted your professional development?
I joined AAEA in 2008 at the suggestion of my Master's thesis advisor at Illinois. He encouraged me to submit my paper to the AAEA annual meeting in 2009 to seek feedback from top scholars in my field. I have been a member of AAEA ever since, and regularly participate in the annual meetings.
In short, my membership in AAEA has benefited my career greatly, as participation in the annual meetings provides not only research insights and ideas but also networking opportunities. When possible, I have also taken advantage of opportunities to give back to the profession through AAEA committee work and referee activities (AJAE and AEPP) as well.
Most recently, I participated in the AAEA mentorship program for early career professionals. I am excited to have a formal mentor to help me navigate through my first few years as a junior faculty member and enhance my professional development.
What advice would you give to an up and coming Agricultural/Applied Economist?
First of all, read the literature. It not only helps you keep abreast of the newest research trends in the field, but more importantly, new research ideas come naturally during your reading. Reading journals also works to improve your professional writing skills.
Second, be persistent. These days, papers in agricultural/applied economics rarely get accepted on the first attempt. If your paper has some value and adds contribution to the literature, you should work to convince the referee of its value. Remember that the referee represents your peers; you must be respectful in any disagreements, and address all of their concerns. In general, always be receptive to suggestions from your peers and incorporate them in your paper.
Third, go to professional conferences like the AAEA annual meeting and get involved in your community. These provide the best opportunity to meet new people with similar research interests with whom you can collaborate and make friends.
---
This post is part of an ongoing series of profiles of AAEA members. Have a suggestion for a future profile? Send them to Info@aaea.org.