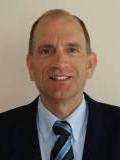 Bruce A. Babcock
Professor
Iowa State University
AAEA Activities:
Bruce Babcock has worked on agricultural policy issues since 1980 when he became a research assistant at UC Davis to help Kent Olson estimate the farmer cost of a ban on burning rice straw in the Sacramento Valley. From biofuels to crop insurance, nutrient runoff to conservation targeting, commodity policy to precision farming, Babcock's analysis and communication efforts have contributed to improved understanding by fellow academics, legislators, state and national agencies, NGO's, and the public both in the United States and abroad.
Opportunity and motivation for becoming involved with agricultural issues was not difficult to find as a Berkeley grad student in the 1980s. Babcock worked on analysis of pesticide applications with David Zilberman and wheat policy with Andy Schmitz. This work gave him an appreciation of the value and power of combining data, economic logic, and writing to achieve improved understanding of complex issues. An ideal job opened up in 1990 at NC State to become an applied economist in the form of a tobacco and peanut policy Extension position. As an assistant professor Babcock analyzed the production, market, and welfare impacts of tobacco and peanut quotas. He was part of the peanut and tobacco extension teams which included agronomists, plant pathologists, and entomologists. One of his responsibilities was to prepare crop enterprise budgets. His peanut budgets were used by peanut growers to estimate production costs that were then used to determine peanut support prices. Similar facilitation of higher support prices by well-meaning academics continues to this day.
At Iowa State, Babcock's first research efforts improved our understanding of farmer decision making under uncertainty and variability by studying fertilizer applications under uncertainty and soil variability. In 1995 he and colleagues Dermot Hayes and Chad Hart were approached by the Iowa Farm Bill Study team to look at the impacts of replacing deficiency payments with revenue insurance as the primary means of supporting farm incomes. Their research efforts begat a new commercial product—Revenue Assurance—and a new way of determining crop insurance premium rates. His work developing innovative insurance products and rating methods continues today. His intimate knowledge of crop insurance eventually led to his being among the most vocal skeptics of the wisdom of providing farmers and the industry with heavy subsidies.
Also in the mid-1990s Babcock strived to become an environmental economist in collaboration with David Zilberman and JunJie Wu and wrote a series of innovative papers showing how the efficiency of conservation funds can be measured and how they can be optimized. These papers were enabled by the environmental models in the Center for Agricultural and Rural Development (CARD), which Babcock joined in 1994.
Upon being named Director of CARD in 1998, Babcock re-focused CARD's research on US policy and increased the visibility of CARD's outreach publication—The Iowa Ag Review—by writing insightful articles demonstrating the usefulness of economic logic and models. These articles helped to increase the visibility of CARD research in agricultural policy circles and increased the demand for CARD research by Congressional committees, commodity groups, environmental organizations, and other NGO's.
Most recently, Babcock has focused his efforts at understanding the impacts of biofuel expansion on commodity markets and fuel prices. He and his CARD colleagues gained notoriety in 2006 when they predicted that ethanol-corn arbitrage opportunities would soon send the price of corn to the then unheard of price of $4.00 per bushel.
Throughout his career Babcock has served the profession with innovative policy-relevant analysis, clear communication efforts, and external engagement. His career path exemplifies the grand tradition of agricultural economists who specialize in understanding and improving agricultural policy.
---
This post is part of an ongoing series of profiles of AAEA members. Have a suggestion for a future profile? Send them to Info@aaea.org. or use the Submit a Member Profile form.