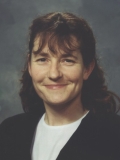 Cheryl J. Wachenheim
Professor
North Dakota State University
AAEA Activities:
Cheryl J. Wachenheim is a Professor in the Department of Agribusiness and Applied Economics at North Dakota State University (NDSU) in Fargo. She received her M.S and doctorate in Agricultural Economics, and an MBA from Michigan State University, and taught at Illinois State University from 1993 until joining NDSU in 1998. She currently teaches undergraduate courses in agrisales, agricultural finance, and macro- and micro-economics and team teaches a graduate course in strategic marketing and management, and enjoys working with student groups and local organizations. Cheryl's research interests focus broadly on stakeholder assessment, and the livestock and meat industries.
She is the incoming commander of the 204th Medical Area Support Company, and is entering her 15th year of service. She moved from an enlisted heavy-wheeled vehicle mechanic to her current rank of Major in the Minnesota Army National Guard. Cheryl was recently awarded a Bronze Star for exceptional and meritorious service as part of the 135th Agribusiness Development Team stationed in Zabul Province, southeastern Afghanistan from October, 2011 to September, 2012. She was previously deployed as the medical logistics officer for the 34th Infantry Combat Aviation Brigade.
You can find out more information about Cheryl's deployment in articles published in
Prairie Grains
and
Farmers' Forum
.
---
This post is part of an ongoing series of profiles of AAEA members. Have a suggestion for a future profile? Send them to Info@aaea.org. or use the Submit a Member Profile form.