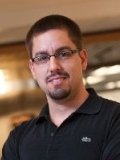 David L. Ortega
Assistant Professor
Michigan State University
AAEA Activities:
David Ortega is Assistant Professor of Global Agri-food Systems at Michigan State University. A native of Venezuela, he grew up in Florida where he started his career as an applied economist. After graduating from the University of Florida with a B.S. in Food and Resource Economics, he commenced his graduate education at Purdue University. His graduate research focused on consumer demand analysis, food safety and Chinese economic development. David's MS thesis was a series of essays on food demand in China which forecasts future trends in meat consumption and discusses ramifications for both domestic meat producers, and grain exporters. The output from his MS research, which was disseminated via two journal articles (published in the
China Agricultural Economics Review
and the
Journal of Food Distribution Research
) and several extension publications, discusses the implications of Chinese economic development on U.S. agribusiness decision making. David was awarded the Applebaum Outstanding MS Thesis Award from the Food Distribution Research Society.
With the growing Sino-American linkages found in today's global agricultural markets, David strongly believes that having a comprehensive understanding of the emerging Chinese economy will be crucial to agribusiness world-wide. David's PhD dissertation explored Chinese food safety issues and how they affect consumer and producer behavior. It is important that his work has real impacts on today's society and makes a positive contribution to the agricultural economics profession. As a graduate student, David had the opportunity to personally brief representatives from the U.S. government, Chinese government, granting agencies and other stakeholders regarding the findings of his research. He has presented his work at various academic conferences and has published those results in various journals including the
American Journal of Agricultural Economics
and
Food Policy
.
David enjoys working across fields and takes an interdisciplinary approach to his research. He is currently working as part of a collaborative team with the International Food Policy Research Institute to study farmer preferences for hybrid rice characteristics in the Indo-Gangetic plain in India. David's research has been funded by the U.S. National Science Foundation, the U.S. Department of Agriculture, the Chinese Academy of Sciences, and other organizations. Throughout his graduate career, David has been a visiting researcher in China Agricultural University. In 2011, he accepted an invitation to teach a short course on agricultural economics at Inner Mongolia Agricultural University. David was recently a visiting scholar at the University of Queensland in Australia where he worked with faculty members on Chinese agricultural economic issues and their impacts on Australian and American agribusiness. Other topics of research include providing decision support to domestic producers and agribusinesses facing an ever-changing set of factors, ranging from production-oriented decisions to public perception of agricultural practices; and applied spatial econometrics work.
As an Assistant Professor at Michigan State University he will continue to apply his knowledge of Chinese agricultural economics to American and global agribusiness issues. On his spare time, David enjoys travelling, learning new languages (currently tackling Mandarin Chinese), swimming and being outdoors.
---
This post is part of an ongoing series of profiles of AAEA members. Have a suggestion for a future profile? Send them to Info@aaea.org. or use the Submit a Member Profile form.