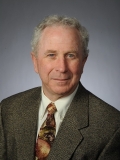 William Edwards
Professor and Extension Economist
Iowa State University
AAEA Activities:
William Edwards' extension and teaching activities are in the general area of farm management. He has taught the introductory farm business management course at Iowa State University for over 30 years and is co-author, with Ron Kay and Patricia Duffy, of
Farm Management
, a popular undergraduate text book (McGraw-Hill, 2012). He has also taught a distance education course in agricultural risk management, and has led several international student travel courses. He serves as co-advisor to the Agricultural Business Club at ISU, which has been named the Outstanding AAEA Undergraduate Student Section Chapter for the past six years.
His extension program areas include risk management, financial management, machinery economics, employee management, farm leasing arrangements, and farm information systems. He currently serves as the Farm and Agribusiness Management Extension team leader and the Departmental Extension Coordinator. He administers the
Ag Decision Maker website
, which was named the outstanding extension website by the AAEA Extension Section in 2009.
Each year he conducts surveys of farm custom rates and farmland cash rental rates in Iowa, which generate thousands of requests and downloads. The cash rental rate survey provides county level data for multiple crops and land classes. He has written several fact sheets and decision aids for establishing rational cash rental rates and for developing flexible cash rental agreements that ensure that rental rates adjust with changes in economic returns to the land.
He has written a series of fact sheets to help producers make decisions about crop insurance coverage, and co-authored (with Art Barnaby) a book about managing risk through crop insurance. He directs an annual workshop for crop insurance providers in Iowa. Each time a new farm bill has been implemented he has developed fact sheets and decision aids to help farmers decide how to participate in commodity risk management programs. His survey about Iowa farmers' decisions to participate or not in the recent ACRE program was summarized in
a recent Choices article
.
He has been co-director of the Agricultural Credit School for over 30 years. This 10-day school trains lenders and regulators to effectively analyze and supervise agricultural credits and manage the operation of credit institutions. He also administers the Financial Decision Making home study course that Farm Service Agency borrowers complete to be eligible for loan assistance, and co-directs the Ag Management e-School suite of online home study courses.
---
This post is part of an ongoing series of profiles of AAEA members. Have a suggestion for a future profile? Send them to Info@aaea.org.