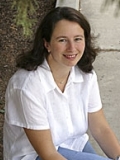 Kynda R. Curtis
Associate Professor and Extension Specialist
Utah State University
AAEA Activities:
Dr. Kynda Curtis has been an Associate Professor and Extension Economist in the Department of Applied Economics at Utah State University since 2010. Originally from Anchorage, Alaska, Curtis holds a BA in Economics from Whitman College and an MS in Financial Services from the American College. After spending several years working in the finance industry in Seattle, WA she completed a PhD in Economics at Washington State University (2003), where she specialized in agricultural marketing and econometrics. Before coming to Utah she spent seven years as a faculty member at the University of Nevada, Reno. Curtis has taught a number of graduate and undergraduate courses including microeconomics, international agricultural marketing, agribusiness management and finance, agricultural and food marketing, as well as international trade and development. Her research interests include international agriculture/food marketing, consumer economics and industrial organization. She has published work on consumer willingness to pay (WTP) for genetically-modified foods, economic feasibility of local processing, implementation or adoption of water conserving crops, and homeowner WTP for and use of water conserving landscaping. Her recent research activities focus on consumer preferences for and WTP for local and organic foods, as well as natural and grass-fed beef products.
In her Extension appointment Curtis works with agricultural producers to assist them in developing new markets for their products and assessing the feasibility of new food and agricultural products and value-added processes. She received Extension program awards (as part of the Western Extension Marketing Committee) from AAEA and the Western Agricultural Economics Association (WAEA). She has served as chair of the Western Extension Marketing Committee and currently serves as the chair of the AAEA Young Professional Development and Mentoring task force and President of the North American Branch of AARES.
---
This post is part of an ongoing series of profiles of AAEA members. Have a suggestion for a future profile? Send them to Info@aaea.org.