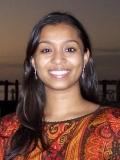 Anna D'Souza
Research Economist
USDA-Economic Research Service
Anna D'Souza is a research economist in the Food Security and Development Branch in the Market and Trade Economics Division of the Economic Research Service, USDA. Her research addresses the major elements of food security—availability, access, and utilization—and integrates this analysis into the wider development literature to address the broader relationship between development, poverty, and food security. She investigates patterns, trends, and policy-oriented questions linked to global food security using recent household survey data from developing countries such as Afghanistan and Tanzania. Topics include estimating the impact of food price increases on calorie intake, macronutrient and micronutrient intake, and dietary diversity; identifying vulnerable groups with respect to food price shocks; and examining the relationship between food security, food price increases, and conflict.
D'Souza joined ERS after receiving a PhD in Economics from the University of California, Los Angeles. Her areas of study were institutions and governance, and international trade. Her job market paper, subsequently published in the
Journal of Development Economics
, examined the international trade implications of a major global anticorruption initiative. At ERS, D'Souza has drawn on this area of expertise, examining the impact of political violence on international trade in Kenya.
D'Souza received a BS in Finance and Economics from the Stern School of Business at New York University, summa cum laude. She then served as a Peace Corps volunteer in Dakar, Senegal, where she worked with entrepreneurs, NGOs, and government organizations to promote small enterprise development. D'Souza has also served as an adjunct professor of econometrics at the Johns Hopkins University School of Advanced International Studies.
---
This post is part of an ongoing series of profiles of AAEA members. Have a suggestion for a future profile? Send them to Info@aaea.org.