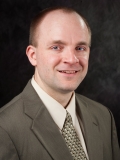 Glynn T. Tonsor
Assistant Professor
Department of Agricultural Economics, Kansas State University
AAEA Activities:
Glynn Tonsor is an Assistant Professor in the Department of Agricultural Economics at Kansas State University. He grew up on a farrow-to-finish swine farm in northeast Missouri. He was a faculty member at Michigan State University from May 2006 to March 2010, at which point, he joined the KSU faculty in his current position. Tonsor leads a thoroughly integrated research and outreach program covering a spectrum of critical economic issues facing the livestock and meat industry including animal identification and traceability, animal welfare, country of origin labeling, food safety, meat demand, and risk management.
To-date Tonsor's work on a host of livestock economic issues has resulted in 36 journal article publications, obtaining over $1.6 million in funded grant projects, and providing over 100 outreach presentations to both domestic and international livestock industry stakeholder groups. He makes numerous outreach contributions involving novel knowledge transfer mechanisms including YouTube videos, webinars, and publishing a quarterly series, Connecting Livestock Producers with Economic Research, in partnership with Feedstuffs magazine to increase dissemination from journal articles to livestock industry decision makers.
Those interested in more details can find Tonsor's full vitae, a short video summarizing his program, and a list of recently provided presentations on
AgManager.info
.
---
This post is part of an ongoing series of profiles of AAEA members. Have a suggestion for a future profile? Send them to Info@aaea.org.