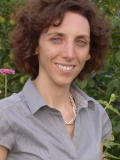 Luisa Menapace
Marie Curie Postdoctoral Researcher
Department of Economics, University of Trento
AAEA Activities: 2011 Outstanding Doctoral Dissertation Award
Luisa Menapace completed her PhD in Economics at Iowa State University in 2010 and is currently a Marie Curie Postdoctoral Researcher in the Department of Economics at the University of Trento, Italy. Her research background is in agricultural and environmental economics and policy, with a focus on microeconomic theory.
Menapace's dissertation research concerns the economics of geographically-differentiated food and agricultural products and the role of intellectual property protection (IP) in the provision of quality in food and agricultural markets. Her first essay develops a reputation model to study the concurrent use of trademarks and certification for food products with Geographical Indications (GIs). From a policy perspective, this essay offers recommendations with regard to the welfare impacts of IP protection instruments for GIs. The second essay investigates empirically whether consumers recognize and value the informational content of a variety of nested geographical origin labels from foreign countries. The third essay investigates the incentives of GI-exporting and GI-importing countries to strengthen the current TRIPS provisions for GIs by explicitly considering the role of promotion. The model highlights the diverging interests of GI-exporting and GI-importing countries with regard to GI provisions in international markets and provides insights on the current controversy over GIs among World Trade Organization members. For her dissertation, Menapace was awarded the 2011 AAEA Outstanding Doctoral Dissertation Award.
In June 2010, Menapace joined the Department of Economics at the University of Trento as a postdoctoral researcher within the framework of the interdisciplinary research project "EnviroChange: Global Change and Sustainable Management of Agriculture in Highly Developed Mountain Environment." Her postdoctoral work focuses on farmers' risk perceptions and risk attitudes with applications to weather and climate change related risks. She has investigated the role of heuristics in the formation of farmers' perceptions of climate risks, the role of framing issues in stated preference experiments eliciting risk attitudes, and the role of subjective risk perceptions in the estimation of Arrow-Pratt measures of risk-aversion via insurance data.
In May 2011, Menapace was awarded a Marie Curie Mobility Research Grant for her research project titled "Environmental, Biodiversity and Climate Change: Perceptions, Risk Communication and Sustainability Measures." Her current applied work focuses on assessing the sustainability and welfare effects of current and proposed policies in the tourist and agricultural sectors in the Alps.
---
This post is part of an ongoing series of profiles of AAEA members. Have a suggestion for a future profile? Send them to Info@aaea.org.