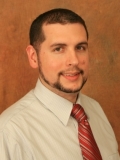 Jason Brown
Economist
USDA-Economic Research Service
AAEA Activities: Chair of
Community Economics Network (CENET)
, 2011–2012
Jason Brown completed his PhD in Agricultural Economics at Purdue University in December of 2009. His dissertation, which was awarded the department's outstanding dissertation award, focused on the location factors influencing the spatial distribution of capital formation in U.S. manufacturing and the resulting implications for rural development. After completing his dissertation, Jason accepted a position as an economist with the USDA-Economic Research Service in the Resource and Rural Economics division. He is a third generation employee of the USDA, following in the footsteps of his grandfather and uncle.
Jason's research focuses on the linkages between the rural farm and non-farm economy in order to better understand how structural change in the U.S. economy impacts rural America. His current research projects include investigating how changes in local industrial composition impact off-farm labor decisions of farm households, measuring economic impacts of wind turbine development using quasi-experimental and spatial econometric methods, modeling rural manufacturing resiliency, and investigating firm-level outcomes of government supported loan guarantees. He has also had opportunities to work with other ERS economists to advise policy makers in USDA-Rural Development on possible metrics to better target program funds. He finds that these interactions help generate new research ideas.
Jason currently serves as the Chair of the
Community Economics Network (CENET)
of AAEA. CENET was the primary reason for his involvement with AAEA as a graduate student. The section afforded him the opportunities to network with other professionals and graduate students conducting research on regional and rural development issues. In 2010, he was elected vice-chair and enjoyed the experience of helping to develop track sessions for last year's meetings in Pittsburgh. As chair of CENET in 2011-2012, he hopes to help strengthen the connections between seasoned researchers and newcomers to the discipline.
---
This post is part of an ongoing series of profiles of AAEA members. Have a suggestion for a future profile? Send them to Info@aaea.org.